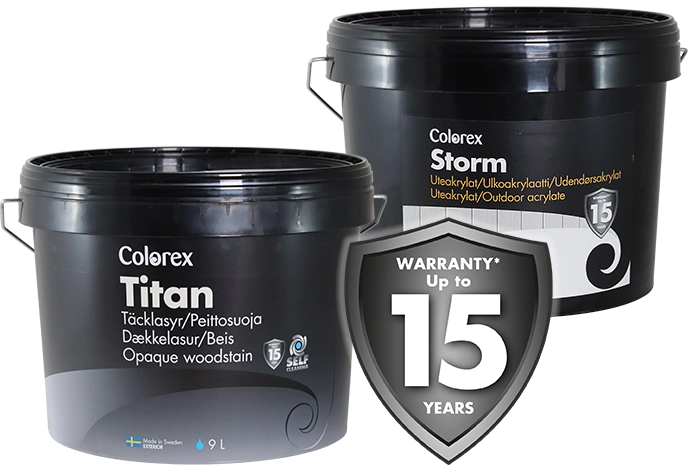 OUTDOOR WARRANTY UP TO 15 YEARS ON PRODUCTS TITAN AND STORM
Products Titan and Storm are labelled with the Warranty-symbol. The warranty is valid for a quality which lasts up to 15 years on wooden facades. For best result and a valid warranty, the Colorex 3-step-programme should be followed.
Follow instructions on the product label of Titan or Storm. It is important that the surface is well prepared. Don´t paint in cold or humid weather conditions and avoid painting on surfaces which are warm from being heated by the sun. Advice your professional paint reseller about colour choises. The warranty is valid only for Colorex standard colours which are especially suitable for outdoor painting, see below. Read more about outdoor facade painting here.
Colourchart Facade Colorex . Note that the print and digital display does not correspond to the exact real colour. Ask your professional paint store.
If all instructions have been followed and you still experience a difference in quality you can file for a warranty request via the reseller where the paint was bought. In this case you will be asked to present a readable receipt and documentation of the paint work process with photoes and information about the weather conditions at the time. Also save the batch number and NCS-code used. Colorex has the right to investigate the paint project in order to make a correct judgement of the warranty request. If this is approved, Colorex will offer new paint and this may not be exchanged to cash or any other type of refund. The warranty does not include costs for products or services in relation to the paint project, such as work costs, timber, tools, transport or the like.