2022-11-28

Finally an odorless professional paint for ceilings and walls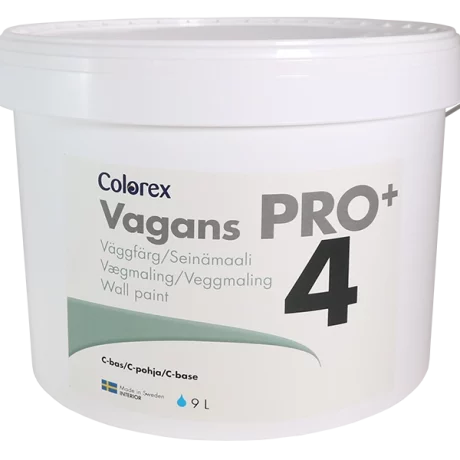 Colorex launches Vagans Pro+ 4 and Vagans Pro+ 7, professionally adapted waterborne acrylate paint with minimal odor and extremely low emissions – a decisive advantage for those who work with painting for many hours. Vagans Pro+, which comes labeled with both the Swan and the Ecolabel, is primarily intended for interior painting of ceilings and walls in dry rooms. It is an excellent representative of the Colorex brand – a smart color choice that provides both high quality and good price in the same can.
Colorex Vagans Pro+ has high coverage and whiteness. It has a soft surface structure and is available in two different glosses: 4 and 7. It works on most substrates, such as concrete, plaster, plaster and fiberboard, wallpaper, fiberglass fabric/felt, latex joint and previously painted surfaces. It can also be used as a primer on highly absorbent substrates.
Fantastic application properties make Pro+ easy to apply both by rolling and spray painting and provides an even surface with Colorex Vagans Pro+ is an excellent choice for both basic and finished painting of ceilings and walls. It provides a washable, durable and completely matte surface and can easily be used for spot improvement. "We have had the working environment of professional painters in mind when we developed Colorex Vagans Pro+. In addition to offering an odorless paint with low emissions, it is easy to work on all surfaces in both homes and public environments," says Dan Hansson, product manager at Hagmans Nordic.
---